Dive Sites of The Similan Islands National Park
North Point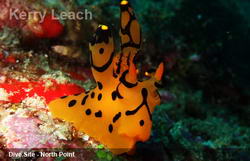 Site Layout:

Granite boulders and sand patches in the deep, shallow Acropora coral reef

Diving depth:

7m to 30m+

Currents:

Can be strong among the boulders

Visibility:

Up to 40m

Surface:

North of Island 9, generally calm and sheltered

Site access:

From MV Philkade in order to drop on the boulders. Normally buoyed to 15m
As the name suggests, this is the most northerly dive site on the islands. This site shows both sides of the Similans to great effect with boulders, swim-throughs, canyons, and soft corals in the deeper areas and a wonderful Staghorn Coral Reef as far as the eye can see above 12m. The boulders are spectacular, especially where they form a large canyon from 5m to 17m, and are home to Andaman and Oriental Sweetlips, Marbled Groupers, Clear Fin and Common Lion Fish, and various species of Nudibranchs. Good days will give divers the chance to see Leopard Shark, White Tip Reef Shark, and Ornate Ghost Pipe Fish. The hard corals in the shallows have clouds of Damsel Fish, Cardinal Fish, Antheas, and small Wrasse above them. Watch for them darting for shelter as Barracuda and Tuna try their luck for a small snack. This is probably the best place to see Hawksbill Turtles in the islands and is a great place for snorkelers. Also, if the Manta Rays appear on Ko Bon, this is one of the few Similan Island sites where early in their season they check out divers on their way north.
Select other Similan Dive Sites you can see on your liveaboard trip.
For more information on the Similan Islands, visit the Similan National Park Official Site.
To see more dive sites in Thailand, choose another area:
Thailand liveaboard - Northern Phuket dive sites

Ko Bon
-
Surin Islands
-
Ko Tachai
-
Richelieu Rock
Thailand liveaboard - Southern Phuket dive sites

Phi Phi Islands
-
Ko Haa
-
Hin Daeng and Hin Muang
Return to Liveaboard Dive Sites in Similan.