Dive Sites of The Similan Islands National Park
Boulder City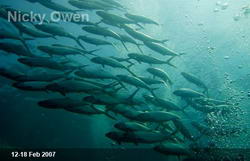 Site Layout:

Large granite boulders

Diving depth:

12m to 30m+

Currents:

Can be strong

Visibility:

Up to 40m

Surface:

Open water, can be choppy at times

Site access:

Site buoyed, big boat or dinghy
This is a dive for those who like dramatic topography and great visibility! As the name suggests, 3 large clusters of boulders form the heart of the site and they are interspersed with hard corals and sand and reached by permanent buoys. The minimum depth of these clusters is between 12m and 18m. Leopard Shark can be seen here as can Great and Chevron Barracuda. Also large Surgeon Fish, Unicorn Fish, Parrotfish and Cube Box Fish can be seen feasting on the hard corals and algae that clinging to the rocks. Currents can be strong here and so, due to the minimum depth, the site is often only dived when conditions are quite gentle. Due to its position at the very south of the Similan chain 'Boulder' is often the last dive before heading home.
Select other Similan Dive Sites you can see on your liveaboard trip.
For more information on the Similan Islands, visit the Similan National Park Official Site.
To see more dive sites in Thailand, choose another area:
Thailand liveaboard - Northern Phuket dive sites

Ko Bon
-
Surin Islands
-
Ko Tachai
-
Richelieu Rock
Thailand liveaboard - Southern Phuket dive sites

Phi Phi Islands
-
Ko Haa
-
Hin Daeng and Hin Muang
Return to Liveaboard Dive Sites in Similan.