Liveaboard Burma (Myanmar)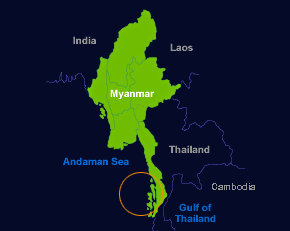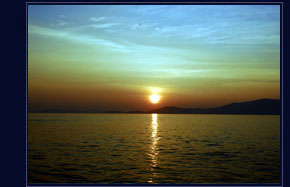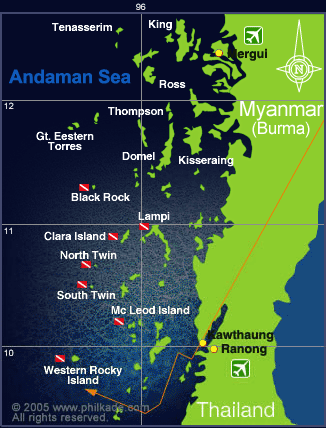 The Mergui Archipelago of Burma (Myanmar) consists of over 800 islands, 1,000's of white sand beaches, and virtually zero inhabitants save for the indigenous Moken Sea Gypsies. There are still very few boats operating in this vast system of islands and SY Philkade is one of the only liveaboard boats licensed by the Myanmar Ministry of Travel and Tours to operate liveaboard dive charters in Burmese waters (License PA-2078).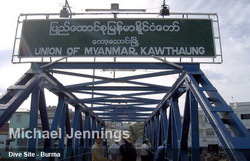 Burma is relatively new on the map of liveaboard diving and, owing to the fact that so few operators are allowed in the area, new attractions are being discovered all the time. We are continually exploring new areas for diving, and you could join us! Beneath the surface there are surprises waiting on every dive. During four days liveaboard diving in Burma you can see submerged granite pinnacles, limestone pinnacles, gently sloping hard coral reefs, caverns, swimthroughs, and mini-walls. And the marine life is as varied as the terrain!! We regularly see schools of Big Eye Trevally, Barracuda, Snapper, and Fusiliers in the blue, as well as large populations of Lion Fish, Scorpion Fish, and Goat Fish on the reefs. Burma also excels at macro, with Sea Horses, Ornate Ghosts Pipe Fish, Sea Grass Ghost Pipe Fish, and numerous Tamja, Roboastra, and Glossodoris Nudibranchs. If you like something bigger, then the 2007-08 liveaboard season served up Grey Reef Sharks, White Tip Reef Sharks, Leopard Sharks, Manta Rays, Eagle Rays, and Whale Sharks. Though these beautiful pelagics are fewer than they once were, the chances are still there. Above the surface visitors literally gasp at the beauty of so many perfect beaches and yours will be the only footprints to be found!!
For non-diving guests on a Burma liveaboard cruise we can offer many activities that do not interfere with the dive itinerary. Kayaking is a great way to explore the fringes of the islands. You can find your own personal beach to relax on, trek into the interior and up on a hill to catch a stunning view of the area, or take a light with you and paddle into some of the caves. When you return to SY Philkade you will be pampered by our 5-star amenities and crew.
Though Burma has a reputation for difficult and very deep diving, we here at Aquamarine feel slightly differently. Yes, currents can be strong on new and full moon, but many of the sites offer plenty of protection, and we try to time the diving to avoid the worst of the water movement. Also, sites such as Shark Cave and Western Rocky offer little below the 30m mark that cannot be seen above. If you are inexperienced or nervous in potentially fast moving and/or deep water it may be worth checking the moon phases before you book you Burma liveaboard cruise. Before you use this as an excuse not to come however, it is worth noting that the majority of the pelagics noted above from last season were seen around the new moon phases.
See Travel facts for Burma for more general Burma information.
When to take your Burma Liveaboard Trip
Although you can dive year round from Phuket, liveaboards departing for Burma only run from October/November to the end of April. The reason for this is that the western monsoon makes liveaboard trips so far into the Andaman Sea undesirable. Sites such as Richelieu Rock and Ko Tachai in Thailand cannot be guaranteed at this time of year so heading further north into Burma and the Mergui Archipelago, so far from land and reasonable assistance, is definitely not wise. The best time of year to see Manta Rays and Whale Sharks in Burma is late January to April, though even then sightings are not guaranteed.
Where to take your Burma Liveaboard Trip
There are several itineraries available to you depending upon your wants and needs when choosing your Burma liveaboard trip. You can choose from 5 days and 6 nights only or combine your Burma liveaboard with a Similan Island itinerary for a 9 days and 10 nights experience!! If you are tied into specific dates check out SY Philkade prices and schedules first. If you are more interested in your liveaboard dive sites, click below to read more about liveaboard diving in the Mergui Archipelago.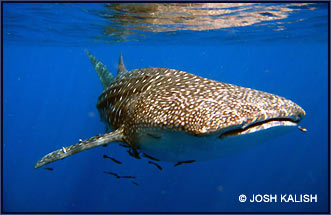 For general tourist information for the Mergui Archipelago see the Official Mergui Archipelago Website.
Return to the top of Liveaboard Diving in Burma.