Liveaboard Diving in The Similan Islands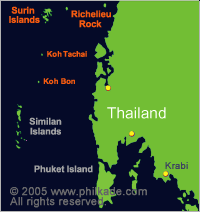 The diving in the Similan Islands National Park, around 43 miles from the Phang-Nga province on the west coast of Thailand, has long been regarded as a treasure for liveaboard guests. From snorkelers to avid divers, visitors to the 9 Similan Islands marvel at the beauty both above and below the surface of the Andaman Sea. The Similan national park covers an area of some 50+ square miles and is uninhabited save for Park Ranger Stations on Islands 4 and 8, and of course the liveaboards.
The visibility in Similan is generally in the 30 metre range throughout the liveaboard season, with the dive sites of this protected area remarkably well preserved and offering an abundance of fish, coral, and other aquatic life. Underwater photographers book liveaboard trips in high numbers to the Similans for the clear visibility and calm conditions. Depths, currents, and general conditions in the Similan Islands are variable depending upon the dive sites and moon phase, though in general they are mostly favorable for divers of all abilities.
Whether you like nosing around for little critters, or watching the blue for a graceful behemoth, the Similan Island Dive Sites have it all!
When to take your Similan Liveaboard Trip
Although you can dive year round from Phuket, liveaboards in Thailand only run from the beginning of November to the end of April or early May. The simple reason for this is that the western monsoon makes liveaboard trips in this part of Thailand somewhat undesirable, with some sites like Elephant Head becoming very difficult to approach. The best time of year to see Manta Rays and Whale Sharks in the Similans is late January to April, though even then sightings are more frequent on Ko Bon and Ko Tachai which are included in all MV Philkade liveaboard itineraries.
Which Similan Liveaboard Itinerary to choose
There are several options available to you depending upon your wants and needs when choosing your Similan liveaboard trip. To check out the schedule, prices, and itineraries for our Similan liveaboard trips and to pick out your perfect trip see MV Philkade liveaboard prices and schedules
Select your Similan Dive Sites you can see on your liveaboard trip.
For more information on the Similan Islands, visit the Similan National Park Official Site.
To see more dive sites in Thailand, choose another area:
Thailand liveaboard - Northern Phuket dive sites

Ko Bon
-
Surin Islands
-
Ko Tachai
-
Richelieu Rock
Thailand liveaboard - Southern Phuket dive sites

Phi Phi Islands
-
Ko Haa
-
Hin Daeng and Hin Muang
Return to Liveaboard Diving in Thailand.
Return to the top of Liveaboard Dive Sites in Similan.