Dive Sites of The Similan Islands National Park
Squeaky Rock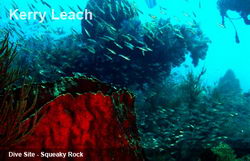 Site Layout:

Granite boulders, hard corals, sand and rubble flats

Diving depth:

7m to 30m+

Currents:

None to moderate

Visibility:

Up to 40m

Surface:

West of Island 7, generally calm and but can be a little choppy from time to time

Site access:

Generally dinghy
On the opposite side of Island 7 to East of Eden this lesser known site is named for the constant squeaking that can be heard at points along the reef as the huge boulders gently move in the swells. As the site is hit by large waves through the monsoon, corals here are far less numerous than many other sites, but it is a haven for Kuhl's Rays, Jenkins Whip Rays and our resident Porcupine Ray, Charles. The rubble is also a great place to find purple Hypselodoris Nudibranchs, Moray Eels, and Banded Sea Kraits. There are some wonderful oasis' of soft corals and sponges that are home to Spiny Lobsters and Clarks Anemone Fish as well as large boulders where you can see White Tip Reef Sharks, Green Turtles, Hawksbill Turtles, Giant Trevally, and Unicorn Fish.
Select other Similan Dive Sites you can see on your liveaboard trip.
For more information on the Similan Islands, visit the Similan National Park Official Site.
To see more dive sites in Thailand, choose another area:
Thailand liveaboard - Northern Phuket dive sites

Ko Bon
-
Surin Islands
-
Ko Tachai
-
Richelieu Rock
Thailand liveaboard - Southern Phuket dive sites

Phi Phi Islands
-
Ko Haa
-
Hin Daeng and Hin Muang
Return to Liveaboard Dive Sites in Similan.