Liveaboard Diving in The Surin Islands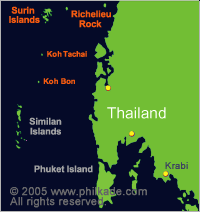 The main body of the Surin Islands National Park is around 55 miles west of Ranong Province, 25 miles north of Ko Tachai and only a matter of miles from the Myanmar marine border. They cover an area of around 50 square miles of both land and water.
Due to damaging fishing practices in the past and limiting four day schedules, many operators tend to avoid diving these islands (with the exception of Richelieu Rock). With longer schedules and reef recovery however, Aquamarine Divers decided to dedicate some of it's itinerary to diving on these islands. This allows customers to see something a little different in the Andaman Sea. Like the Similan Islands to the south, Surins islands are volcanic granite, though there are several differences. Firstly visibility is often slightly less here than Similan, though 20m+ is the norm, also aggregations of soft corals are less prevalent. In fact the diving in Surin seems to have more in common with the diving in the Mergui Archipelago of Burma of which the southernmost islands are visible less than 10 miles to the north.
Here among the group´s 5 islands and numerous reefs you can spot impressive pelagics and other exciting wildlife such as reef sharks, hump head parrot fish, and sea horses.
When to take your Surin Liveaboard Trip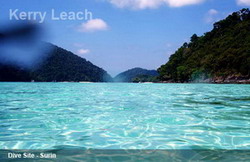 Although you can dive year round from Phuket, liveaboards in Thailand only run from the beginning of November to the end of April or early May. The simple reason for this is that the western monsoon makes liveaboard trips in this part of Thailand somewhat undesirable, with some sites like Hin Kong becoming very difficult to approach. The best time of year to see Manta Rays and Whale Sharks in Surin is late January to April, though even then sightings are more frequent on Richelieu Rock which is included in all MV Philkade Similan and Surin liveaboard itineraries.
Which Surin Liveaboard Itinerary to choose
There are several trips running through the season, so you can be flexible if you want a Surin liveaboard trip. To check out the schedule, prices, and itineraries for our Surin liveaboard trips and to pick out your perfect trip see MV Philkade liveaboard prices and schedules
Select your Surin Dive Sites you can see on your liveaboard trip.
For more information on the Surin Islands, visit the Surin National Park Official Site.
To see more dive sites in Thailand, choose another area:
Thailand liveaboard - Northern Phuket dive sites

Similan Islands
-
Ko Bon
-
Ko Tachai
-
Richelieu Rock
Thailand liveaboard - Southern Phuket dive sites

Phi Phi Islands
-
Ko Haa
-
Hin Daeng and Hin Muang
Return to the top of Liveaboard Dive Sites in Surin.