Customer Testimonials
Thank you for a very excellent trip. We have been diving all over the world and never experienced such fantastic service! The crew are so friendly, the food was excellent and Mik and Kerry were infectious in their love of diving. We will be back!
Tracey Jennings
Singapore
3rd May 2008
---
The whole trip has been great but I especially enjoyed the fin removal service! Thanks Kerry and Mik for arranging the sleeping leopard shark and manta rays! Was so glad to have seen all the fish and that on this super trip!
Vanessa Evans
England
April 2008
---
Another wonderful trip, two years after our first Similans trip. Burma was wonderfully scheduled. Mik and Kerry provided wonderful diving experiences and the whole crew gets better and better!
I saw my first whale shark in 460 dives together with 4 mantas and 3 leopard sharks - not to mention all the moray eels, scorpion fish and small stuff! A truly wonderful and world class diving experience
Well done and Keep it up!!
Steven Davidson
Hong Kong
March 2008
---
Far beyond our expectations, great dives, great dive masters, great food with a friendly crew. Most comfortable dive trip ever
Hope to see you guys again soon
Jenny, Sonia, Tiger and Robert
Shenzen, China
17 March 2008
---
For our first liveaboard experience this has been exceptionally good. The boat is fantastic, the crew cannot do enough for you, and Mik and Kerry were great dive guides and great fun
"9 out of 10" Kerry! We won't forget!!
Hope to see you again some time and see if 'Turtles Head Corner' is still being dived. Thanks for everything!!
Carol and John
Yorkshire, England
17 March 2008
---
This is not our first liveaboard, however, it is the best one. Much thanks to Mik and Kerry for good cheer, professionalism, and fun. Big kudos to the Thai crew, they could not be any more helpful.
Excellent dive trip! Thanks for your knowledge patience, and humour in showing us these superb dive sites! 10 out of 10!
Rikki and Bernard Grinberg
Byron Bay, Australia
11 March 2008
---
Thank you all so much, we had a wonderful time and will remember our trip forever! Thank you, thank you, thank you!!
See you in Indonesia!
Zoe and Rob
NYC, USA
February 2008
---
Thank you for the wonderful liveaboard on MV Philkade! Briefings were highly entertaining and informative, the dives exciting (my first manta!!), the food good, and the company exceptional. What more could we ask for? Except to call in the whale sharks, I'll be back for that!
Keep up the good work and the conserving of the reefs!
Dena
February 2008
---
What an amazing 4 days! The boat is gorgeous and we especially loved our room 'Aquamarine'! Thanks to Kerry and Mik for ensuring that we all had a great time - your professionalism and knowledge of the dive sites is superb
The thai boat crew were so lovely and extremely hard working. This was our first liveaboard experience and it certainly exceeded our expectations! We look forward to coming on this boat again soon!
Chrissy and Fabs
18 January 2008
---
Thanks to all the crew for making our trip unforgettable, and diving comfortable
You've done a good job guys
Yana Churivova
Moscow, Russia
January 2008
---
18 January 2008
Ascending the 'chimney' wearing santa hats on Christmas Day - What a blast!!!
Thanks for a fabulous time and an amazing christmas dinner - it truly is a 'Wonderful Life'!
Tina and John
San Francisco, USA
26 December 2007
---
This was our very first liveaboard and it was truly fantastic. We just hope our next liveaboard trip will have the same quality of service and attention! Mik and Kerry were very attentive and knowledgable in each site we visited. We won't miss their 6:30 alarm call each morning but we will surely miss them and the thai crew. The food was excellent. We hope to be back here again SOON!
Thank you for a fabulous holiday and Christmas
Luis and Noi
Venezuela
26 December 2007
---
Thanks Mik, Kerry and the thai crew for an amazin trip. I am now more certified than my Brit Navy diver husband!! The diving was great and I wqas glad we finally got to see a shark. Mik and Kerry, we hope to see you in America someday. We'll show you the east coast.
Cheers!
Steve and Jayme Studley
Washington DC
20 November 2007
---
Thank you for a perfect trip!! The boat crew was very polite and professional and the diving (in spite of one broken promise.....Mik, just poking) was outstanding!!
Take care, and we hope to return in the future. Please take care of our cabin.
Maria and Wes Collins
USA
20 November 2007
---
Very nice trip. Our favourite position: horizontal, except for eating.
Thanks to Kerry, Mik and the Thai crew.
Peter
Germany
2 November 2007
---
Great boat, fantastic crew, cruise director, dive master. The food was amazing, the diving was superb, and my only regret is that I did not book a longer trip.
Thanks to all for a trip that was better than anything I imagined.
Dawn Rehm
Washington DC, USA
13 April 2006
---
Our first liveaboard, our first trip to the Similans and Richelieu Rock… What a fantastic debut! The boat, the food, the dive sites and the crew including the captain, the dive masters, score 10/10.
Adrian Walters and Claire Horner
9 April 2006
---
I had a wonderful vacation. The boat is beautiful and comfortable. Thank you for having fish identification books available. I can not say enough positive things about the crew. They were so helpful when I was getting ready to dive.
Susan McBride
Alabama, USA
6 March 2006
---
Wow! What a wonderful way to turn 68 years old. May every scuba dive continue to breath (with or without a tank) until they are 68 and come back to celebrate with this terrific crew at Richelieu Rock.
Austin, Tea, Anek all made me feel comfortable at all times. The captain and crew were always at hand to help when I needed it.
I feel very fortunate to be able to do these trips.
Thank you
Jack Bledsoe
Maryland, USA
10 Feb, 2006
---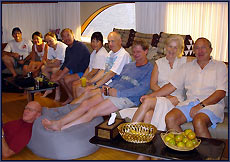 Austin, Anek, the Captain and all the wonderful crew,
Of all of our world travel, you are the best! The cook is the best in Thailand. We are all very well fed. We enjoyed the staff and the crew immensely! We are planning our next trip with the finest vessel, staff and crew in Thailand! Thanks for a wonderful time with many lasting memories.
With our greatest regards,
Tina Quon and Gary Moore
San Francisco, USA
31 January 2006
---
To the crew
A great weekend! The service both above and below water was outstanding!
Scott Price
Singapore
22 January 2006
---
Thank you very much for an unforgettable tour boat below and above the water. The quality of the boat together with an easy going and professional crew makes this one of my top class diving/liveaboard experience.
Jan Pawli
Finland
19 January 2006
---
Thanks a lot everyone. Great pleasure of living, diving and cooking. Be happy!!
Oleg
Russia
13 January 2006
---
To all the crew!!
This was my first liveaboard and I really enjoyed the diving and the crew. I will continue to do many more liveaboards over the years because you have shown me how great diving can be!!
Wishing you all the best
Take care
Shelly Cooke
Canada
2 January 2006
---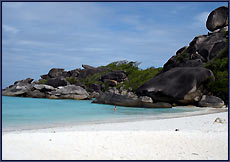 A wonderful way to spend Chrismas. Dive, Eat, Sleep, Dive, Eat, Sleep, Dive, Eat, Sleep, Dive, Eat, Sleep…
Thanks to the great crew for a memorable experience. We will be back!
Sam & Don Hindmarch
Toronto, Canada
28 December 2005
---
To the crew, dive masters and Owners of Philkade
We had a great time on board and will dream about this trip for a long time. Everybody was pleasant, helpful and professional. Certainly an experience to be recommended.
Thank you
Andy Bachman & Edith Rollin
Switzerland
28 December 2005
---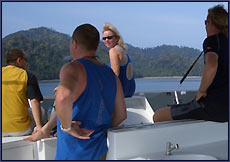 Dear Friends,
These days at the MV Philkade have been wonderful! The food, the boat, great people all of you. Great food (Oh the spicy soup!!) and of course good diving!
I'll be back! That's for sure!
Thank you for everything
Jose Ignacio Garrido
Barcelona, Spain
4 December 2005
---
Had a great live-aboard experience on Philkade. Great diving, met some lovely people. Stunning scenery, great Thai food. We are getting off in Ranong - have a fab time in Burma.
Sarah Cook & Simon Dalkin
London
28 November 2005
---
Great dives, great trip, great crew!!
Thank you, I'm looking forward to coming back.
Ida Sahle-Dorn
Austria
24 November 2005
---
Happy Thanks Giving!!
Fantastic trip - she's a fine ship with a first-class crew & dive team. Excellent dives, great company, tasty food - we'll definitely be back!!
Steve & Beth Welch
Highland Park, IL USA
24 November 2005
---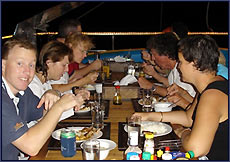 To the cast & crew of Philkade,
Thanks for an enjoyable dive trip. Great boat, great people and great fun.
Jason & Nicole West
Australia
23 November 2005
---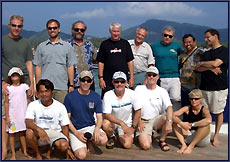 Philkade and its wonderful crew are the best I have experienced! Thanks to the cooperation of Philkade. We have had a wonderful New England Aquarium / National Geographic Expedition. I will always remember this trip and look forward to the next project on this superb vessel
Gregory Stone
New England Aquarium, USA
30 April 2005
---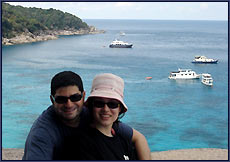 Many thanks to all the crew for a fantastic holiday. This was our first liveaboard trip and there we bound to be plenty more. But I doubt we'll be able to find another boat where everyone is so friendly and helpful.
I wish we could come back next week!
Ronnie and Sue Lin
Hong Kong
4 April 2005
---
As the owners of the travel company, specializing on diving trip, we've been to many safari boats across the world, but this is the best on so far. The combination of great food, great services, great vessel and good diving is amazing. Couldn't give any recommendation or think about anything to make this better. And we saw mantas as well!!!
To those who just stepping aboard- you are the lucky ones.
Special thanks to Eric - everyone in our group simply loves him. And of course to the chef, who make even the dieting ones eat all the time!!
Thanks and good luck to everyone.
Pavel and Polina Markelov
Moscow Russia
4 April 2005
---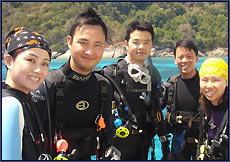 We enjoy the boat, the food, especially the breakfast, omelet and pizza. We saw almost everything we expected eg. Whale shark, manta Ray, nurse shark, lots of puffer fish, stone fish box fish beautiful formation etc.
This is our 2nd liveaboard trip and we like the boat very much especially the sun deck, huge saloon, the crew. Keep up the good work!!
April & Joa
Hong Kong
18 February 2005
---
Bravo a tout l'equipage et a John. Une plongee inoubliable a Richelieu Rocks!
JP Andre
France
6 February 2005
---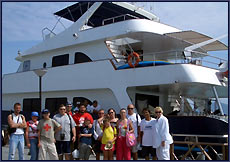 For all the crew!!
Thank you!
We appreciate all the crew, instructors, dive masters.
Actually it was the best service and crew we ever met before.
Group of Russia tourists.
Albert Antonyan
Russia
8 January 2005
---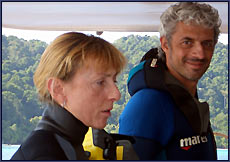 To John, Arraya, Philippe, Anake and all the crew.
Well done!!
A great week and unforgettable for the beautiful dives and the dramatic event happened. You all have been professional and lovely.
Thank you
Regards,
Stefan, Matilda, Mattia
Tonino, Italy
2 January 2005
---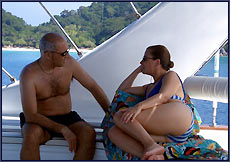 Unforgettable. Thanks everybody for time spent together. Thanks god to be here with you!!
Fulvia
Trieste, Italy
2 January 2005
---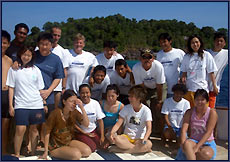 To Arraya and all on board,
Been on liveaboard 5 times and this is the best boat! Need another dingy to make easier for 9 guests. Great "too" much food, friendly crew, clean and tidy.
Thanks for the good dives
All the best for the new venture,
Brian Goh
Indonesia
18 November 2004
---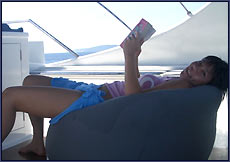 My first liveaboard and they tell me that I'm spoiled for life. Philkade was so much more than what I expected a liveaboard would be like. Not only are we the 2nd group on board- the boat is brand new! I will never forget the experience on board. Lots of good, fun, dives and not to mention loads and loads of CSI's!!
The excellent food (the omelette I love and the green curry), the cleanliness of the boat is paramount. I love the idea of walking around bare foot everywhere yet feel clean! The toilets, showers, towels, bedsheets was five stars. The helpers even made our beds in the morning. The only complain is the pillows which I thought were too hard and high.
I love the upper sun deck. Welter lounging, getting a tan or even listening to the I pod watching the islands pass-by. Sitting on the bean bags reading a great book. This is what life is supposed to be! Swimming from the boat to the smaller islands in Similands, climbing rocks to see views from above…
Aida Ishak
Indonesia
18 November 2004