Liveaboard Diving at Ko Bon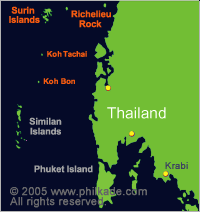 Ko Bon became part of the Similan National Park in 1998 and is around 12 miles north east of Island number 9. An oddity on the northern liveaboard itineraries as it is the only limestone island in the area. It has a reputation as one of the best liveaboard dives sites in Thailand for seeing manta rays, though this depends upon the date you choose for your liveaboard itinerary. Even without the excitement of mantas, divers can often see leopard sharks and sometimes even eagle rays here. Koh Bon is also home to lots of macro life which, along with the reef fish and pelagics, makes diving here a wonderful experience.
When to dive at Ko Bon
You can only dive Ko Bon via liveaboard from the beginning of November to the end of April or early May. The simple reason for this is that the western monsoon makes diving on Ko Bon virtually impossible for liveaboards outside of these times. The best time of year to see Manta Rays on Ko Bon is late January through to April, though even then sightings are not guaranteed.
Which Ko Bon Liveaboard Itinerary to choose
All liveaboard itineraries for Similan and Surin include diving at Ko Bon. To check out the schedule, prices, and itineraries for our Similan and Surin liveaboard trips and to pick out your perfect trip see MV Philkade liveaboard prices and schedules
Ko Bon West Ridge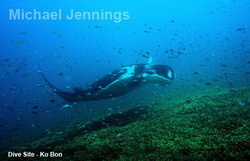 Site Layout:

Limestone Ridge with wall on the southside and gently sloping hard coral reef on the north

Diving depth:

surface to 30m+

Currents:

Can be very strong on the ridge itself

Visibility:

Up to 40m+

Surface:

Generally calm and sheltered, can get choppy late in the season. Surface traffic can be heavy at times

Site access:

Dinghy or big boat depending on time and conditions
The West Ridge on Ko Bon is considered one of the best places for seeing Manta Rays on your liveaboard trip. Even without them however, the dive site has lots to offer. The south wall is coated in pink, green and yellow Hemprich's Soft Corals with the cracks and crevices hiding a variety of Shrimps and Nudibranchs. To the north, an hard Acropora Coral Reef is testament to the power of reefs to recover from destructive fishing practices. Now protected effectively for over 10 years, the extensive reef has Oriental, Andaman and Giant Sweetlips, Big Eye Snapper, Lion Fish, and clouds of Cardinal Fish and Antheas living around it.
Ko Bon Pinnacle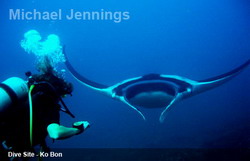 Site Layout:

Limestone pinnacle in 50m+ of water

Diving depth:

17m to 30m+

Currents:

Only dived close to slack so generally relatively gentle

Visibility:

Up to 40m+

Surface:

Can sometimes be choppy. Surface currents can be strong

Site access:

Jumps from MV Philkade as bottom finder required
A dive site that can only realistically be attempted on the liveaboard itinerary in gentle conditions due to the fact that it is quite deep and not buoyed, the pinnacle on Ko Bon is something a little different on your diving itinerary. A negative entry and speedy descent will bring you to the top of the pinnacle among clouds of Fusilier and Snapper with menacing Blue Fin and Big Eye Trevally cruising amongst them. The pinnacle itself is covered with yellow Hemprich's Soft Corals and Gorgonian Sea Fans with a variety of macro life hiding amongst including Long Nose Hawk Fish, juvenile Angel Fish and Banded Cleaner Shrimp. This is also a great place to see Leopard Shark gliding across the sand below with the chance of Manta and Whale Shark for the lucky ones.
For more information on Ko Bon and the Similan Islands, visit the Similan National Park Official Site.
To see more dive sites in Thailand, choose another area:
To see more dive sites in Thailand, choose another area:
Thailand liveaboard - Northern Phuket dive sites

Similan Islands
-
Surin Islands
-
Ko Tachai
-
Richelieu Rock
Thailand liveaboard - Southern Phuket dive sites

Phi Phi Islands
-
Ko Haa
-
Hin Daeng and Hin Muang
Return to the top of Liveaboard Diving at Ko Bon.