Dive Sites of The Similan Islands National Park
Deep Six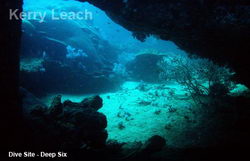 Site Layout:

Large Granite boulders, some hard corals

Diving depth:

5m to 30m+

Currents:

Can be strong

Visibility:

Up to 40m

Surface:

North tip of island 7, generally calm and but can be a little choppy from time to time

Site access:

MV Philkade or dinghy depending on current and conditions
The north tip of Island 7 is home to this fantastic boulder site. Descending in a bay to the west of the main site will put you in a coral garden filled with huge table corals with the chance of Green and Hawksbill Turtles, as well as Clown Trigger Fish, Butterfly Fish, and Damsel Fish. The main body of the site, marked with a buoy descending to around 14m, is made up of large boulders dropping off to the depths as the name might suggest. These boulders have formed many swimthroughs and canyons that have numerous soft corals growing around them. Though there is a good chance of Giant Trevally, Barracuda, White Tip Reef Shark, and Wahoo here, don't forget to look for treasures such as Ribbon Eels, Orange Spot Pipefish, and Roboastra Nudibranchs.
Select other Similan Dive Sites you can see on your liveaboard trip.
For more information on the Similan Islands, visit the Similan National Park Official Site.
To see more dive sites in Thailand, choose another area:
Thailand liveaboard - Northern Phuket dive sites

Ko Bon
-
Surin Islands
-
Ko Tachai
-
Richelieu Rock
Thailand liveaboard - Southern Phuket dive sites

Phi Phi Islands
-
Ko Haa
-
Hin Daeng and Hin Muang
Return to Liveaboard Dive Sites in Similan.