Dive Sites of The Similan Islands National Park
Beacon Reef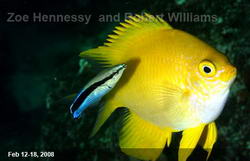 Site Layout:

Granite boulders to the south, steep hard coral reef, liveaboard wreck, shallow coral gardens

Diving depth:

Surface to 30m+

Currents:

Generally Mild

Visibility:

Up to 40m

Surface:

East of Island 8, calm and sheltered almost year round

Site access:

Dinghy
Technically speaking, there are really three dive sites on the lower half of the east coast of Island 8, though it can depend on where you begin the dive. At the south end Beacon Point is a series of large boulders descending to 35m+. Though there are very few corals growing here, the scenery is spectacular and both Leopard Sharks and the occasional Eagle Ray have been seen here. The reef itself is a steeply sloping Acropora Coral reef with Angel Fish, Butterfly Fish, Anemone Fish, Lion Fish, Damsel Fish, and Big Eyes all present. There is also the wreck of the liveaboard Atlantis X lying face in to the island at the bottom of the reef. Unfortunately much of the upper deck was pulled off in 2006 by careless mooring of another liveaboard but the wreck is still interesting. Large Groupers, Whip Rays and large Common Lionfish often hang around the structure and a single toilet on the sand at 30m still provides an amusing photo opportunity!! The shallow section of the reef, or Beacon Beach, is often dived after nightfall and is home to lots of interesting macro critters including Clown Frog Fish, Pleurobranches, Spider Crabs and Decorator Crabs.
Select other Similan Dive Sites you can see on your liveaboard trip.
For more information on the Similan Islands, visit the Similan National Park Official Site.
To see more dive sites in Thailand, choose another area:
Thailand liveaboard - Northern Phuket dive sites

Ko Bon
-
Surin Islands
-
Ko Tachai
-
Richelieu Rock
Thailand liveaboard - Southern Phuket dive sites

Phi Phi Islands
-
Ko Haa
-
Hin Daeng and Hin Muang
Return to Liveaboard Dive Sites in Similan.