Liveaboard Indonesia
The East and West Nusa Tenggara Islands of Indonesia have been shaped by the power and force of an enormous chain of mountains and volcanoes, which begins from the North of Sumatra and stretches east across Java. The two provinces consist of over 600 islands, with the largest ones being Lombok, Sumbawa, Flores, Sumba, and Timor. The area occupies a unique position at the junction of Australian and Asian submarine ridges marked by the Wallace Line (named after 19th century naturalist, Alfred Russell Wallace) and is one the world's most dynamic and exotic marine environments with nearly every species of coral and tropical fish represented. Indonesia is the only equatorial region in the world where there is an exchange of marine flora and fauna between the Indian and Pacific oceans, with passages in Nusa Tenggara between the Sunda and Sahul shelves allowing movement between the Pacific and Indian oceans.

Sat on the border of these two provinces, in one such passage, is the Komodo National Park. Consisting of around 80 islands and over 700 square miles between the islands of Sumbawa to the west and Flores in the east Komodo is a UNESCO World Heritage Site and Man and Biosphere Reserve. The park was initially established in 1980 to conserve the unique Komodo dragon (Varanus komodoensis), but since then conservation goals have expanded to protecting its entire biodiversity, both marine and terrestrial.
There is everything here a diver could wish for!! The Komodo area includes one of the world's richest marine environments, consisting of forams, cnidaria (including over 260 species of reef building coral), sponges (70 species), ascidians, marine worms, mollusks, echinoderms, crustaceans, large and small cartilaginous fish, and over 1000 species of bony fishes. Not to mention the marine reptiles and marine mammals, including dolphins, whales, and dugongs.
See Travel facts for Indonesia for more general Indonesia information.
SY Philkade, with its 5-star appointments and crew, is the most luxurious way to experience this wonderful part of the underwater kingdom. You will be pampered on board and your interests catered to under water as we cruise all the best Komodo and West Nusa Tenggara has to offer.
When to take your Komodo Liveaboard Trip
Although you can dive year round in Komodo, SY Philkade only operates from June until October in Idonesia waters. This is because we split our season between Thailand and Komodo to exploit the best diving in each destination. The weather during our Komodo season is very dry (the dryest time of the year) with a high 'maximum hours of sunshine' count.
Click on the links below to see each Komodo Dive Site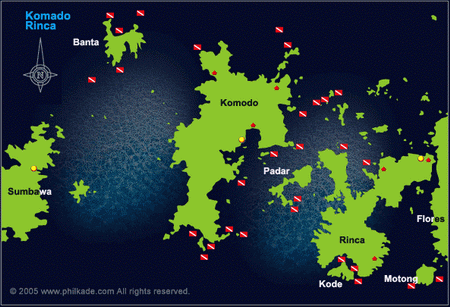 For general tourist information on the Komodo National Park see Official Komodo National Park Website.
Return to the top of Liveaboard Diving in Komodo.