Dive Sites of The Similan Islands National Park
Christmas Point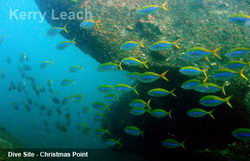 Site Layout:

Large granite boulders

Diving depth:

Surface to 30m+

Currents:

Can be very strong

Visibility:

Up to 40m

Surface:

North of Island 9, generally calm, surface currents can be strong

Site access:

From MV Philkade in order to drop on the deep boulders. Free descent
A dive site in two parts, this boulder site gets its name from the numerous Christmas Tree Worms that adorn the hard corals on the granite rocks. The deeper section of the site is a good place to try your luck spotting both Leopard and White Tip Reef Sharks that sometimes sleep here. There is also a chance of Ribbon Eels and Orange Spot Pipe Fish in the depths. After crossing an area of sand flats at 22m where you may see Kuhl's Rays a large boulder pinnacle rises from the bottom to break the surface at low tide. As with other boulder sites in the Similans there are numerous swim-throughs here, along with large numbers of Sweetlips, Unicorn Fish, Surgeon Fish, and Trevallies. Christmas Point can also yield Manta Rays in the same way as North Point in the right conditions. Keep your fingers crossed, but don't stare out into the blue for the whole dive or you'll miss a fantastic dive site.
Select other Similan Dive Sites you can see on your liveaboard trip.
For more information on the Similan Islands, visit the Similan National Park Official Site.
To see more dive sites in Thailand, choose another area:
Thailand liveaboard - Northern Phuket dive sites

Ko Bon
-
Surin Islands
-
Ko Tachai
-
Richelieu Rock
Thailand liveaboard - Southern Phuket dive sites

Phi Phi Islands
-
Ko Haa
-
Hin Daeng and Hin Muang
Return to Liveaboard Dive Sites in Similan.