Liveaboard diving in Thailand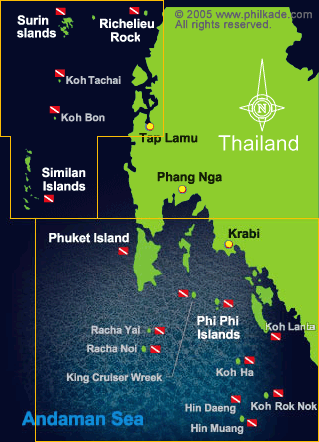 The dive sites on the Andaman coast of Thailand offer some of the best diving in Asia. Diving from a liveaboard in Thailand makes all the difference because it allows you to live on the reef, rather than merely visit it for a few hours during a day. It also means you can dive up to 4 times a day with long surface intervals as you are not travelling to and from a home port. We feel that once you have experienced our exceptional style and service, your future Thailand liveaboard experiences will all be compared to the benchmark that is SY Philkade!
With regular scheduled Phuket departures you can experience Thailand's renowned Similan Islands, one of the world's top dive destinations, as well as the lesser known 'sister' park, the Surin Islands and the world class Richelieu Rock. If you fancy treating yourself to something different in Thailand over the Christmas and New Year period, why not try the 'Thailand Southern Islands' trip that takes in the dive sites of Phi Phi, Ko Haa, and Hin Daeng and Hin Muang as well as The Similan Islands?
Thailand's Andaman coast offers some of the most stunning scenery and exhilarating activities in the world! Dotted with some of the most pristine powder white beaches, the islands in this region are perfect for your Thailand liveaboard trip.
See Travel facts for Thailand for more general Thailand information.
When to take your Thailand Liveaboard Trip
Although you can dive year round from Phuket, liveaboards in Thailand only run from the beginning of November to the end of April. The simple reason for this is that the western monsoon makes liveaboard trips in this part of Thailand somewhat undesirable, with sites like Richelieu Rock and Hin Daeng becoming un-reachable. The best time of year to see Manta Rays and Whale Sharks in this part of Thailand is late January to April, though even then sightings are not guaranteed.
Where to take your Thailand Liveaboard Trip
There are several itineraries available to you depending upon your wants and needs when choosing you Thailand liveaboard trip. If you are tied into specific dates check out SY Philkade prices and schedules first. If you are more interested in your liveaboard dive sites, click below to read more about liveaboard diving in different areas of western Thailand.
Thailand liveaboard - Northern Phuket dive sites

Similan Islands
-
Surin Islands
-
Ko Bon
-
Ko Tachai
-
Richelieu Rock
Thailand liveaboard - Southern Phuket dive sites

Phi Phi Islands
-
Ko Haa
-
Hin Daeng and Hin Muang
Return to the top of Liveaboard Diving in Thailand.
For general tourist information for Thailand see the Official Tourism Authority of Thailand Website.