Liveaboard Diving at Ko Phi Phi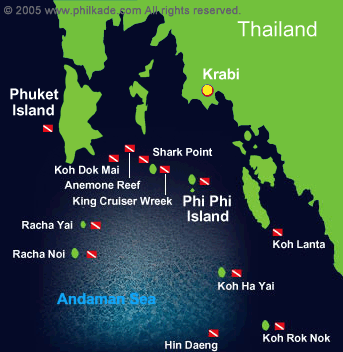 The diving in Phi Phi offers something extra for the discerning diver visiting Thailand seeking a liveaboard. Firstly the scenery above the water is completely different here with vertical limestone cliffs predominating rather than the gently sloping granite of the north. This means that the diving can be a little different too, with mini-walls and shallow coral gardens predominating.
The marine life is, as the Thai's say, same same but different in Phi Phi. Differing species of Angel Fish, Butterfly Fish, Grouper and Wrasse will keep budding marine biologists busy in the id books, as will some unusual nudibranchs that feast on the differing species of sponge that are available in the nutrient rich waters. And while visibility can sometimes be less due to the mangroves of Phang-Nga Bay, it is still generally over 20m. You can sometimes get lucky with pelagics on your Phi Phi liveaboard too, with populations of Black Tip and Leopard Sharks, early morning Eagle Rays, and even the chance of Whale Shark passing by from time to time.
When to dive Ko Phi Phi by liveaboard
Diving around Ko Phi Phi by liveaboard is only really practical from November to April or maybe even May. While you can actually dive on these sites year round, MV Philkade southern itineraries take in Phi Phi along with Hin Daeng, Hin Muang, and Ko Haa which are far less accessible throughout the Phuket low season.
Which Ko Phi Phi Liveaboard Itinerary to choose
This season MV Philkade is only running two liveaboard cruises that take in Ko Phi Phi, with both of them over the Christmas and New Year period. To check out the itinerary of the trips and to pick out your perfect liveaboard cruise see MV Philkade liveaboard prices and schedules
Select the Ko Phi Phi Dive Sites you can see on your liveaboard trip.
For more information on Ko Phi Phi, visit the Ko Phi Phi National Park Official Site.
To see more dive sites in Thailand, choose another area:
Thailand liveaboard - Northern Phuket dive sites

Similan Islands
-
Surin Islands
-
Ko Bon
-
Ko Tachai
-
Richelieu Rock
Thailand liveaboard - Southern Phuket dive sites

Phi Phi Islands
-
Hin Daeng and Hin Muang
Return to Liveaboard Diving in Thailand.
Return to the top of Liveaboard Diving at Ko Phi Phi.