Liveaboard Diving at Ko Tachai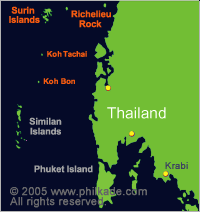 Ko Tachai became part of the Similan National Park in 1998, at the same time as Ko Bon, even though it is around 28 miles north of Similan Island number 9. Ko Tachai has a reputation among liveaboard dive guides as having one of the most exciting dives on the Similan itinerary as well as some very relaxing dives if either Ko Bon or Richelieu have been 'high energy' dives. There is a huge range of regulars on Ko Tachai for our liveaboard divers including Leopard Sharks, Marbled Whip Rays, Turtles, Barracuda, Pipe Fish, and Nudibranchs but is also sometimes visited by bigger pelagics including Manta Rays and Whale Sharks.
When to dive at Ko Tachai
You can only dive Ko Tachai via liveaboard from the beginning of November to the end of April or early May. The simple reason for this is that Ko Tachai is quite remote and the western monsoon makes access to Ko Tachai impossible for liveaboards outside of these times. The best time of year to see Manta Rays or Whale Sharkson Ko Tachai is late January through to April, though even then sightings are relatively unusual.
Which Ko Tachai Liveaboard Itinerary to choose
All liveaboard itineraries for Similan and Surin include diving at Ko Tachai. To check out the schedule, prices, and itineraries for our Similan and Surin liveaboard trips and to pick out your perfect trip see MV Philkade liveaboard prices and schedules
Ko Tachai Pinnacle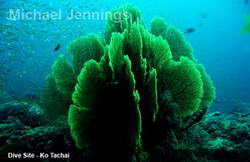 Site Layout:

Large granite boulder pinnacle

Diving depth:

10m to 30m+

Currents:

Can rage

Visibility:

Up to 40m+

Surface:

Quite exposed and can get choppy. Strong surface currents

Site access:

Generally from MV Philkade. Site is buoyed but free negative descent can be easier
Often considered a favourite with liveaboard dive staff due to its potentially challenging nature, this granite boulder pinnacle can be one of the most rewarding dives on any itinerary. Numbers of schooling Neon and Yellow Back Fusiliers are mind-blowing above the pinnacle, while the huge rocks shelter Clown Trigger Fish, Oriental Sweetlips, Long Fin Bat Fish, Lion Fish, Giant Moray Eels and even Orange Spot Pipefish and unusual nudibranchs for macro lovers. At certain times of year you can see Leopard Shark and also Manta Rays here but, though it can be daunting, the pinnacle is best dived in current (especially at sunset) when Giant, Blue Fin and Big Eye Trevally, Great Barracuda, Golden Pilot Jacks and even the odd Wahoo and Tuna engage in feeding frenzies among the fusiliers in the blue!!
Ko Tachai Reefs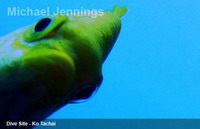 Site Layout:

Fringing hard coral reefs with scattered granite boulders and sand patches

Diving depth:

surface to 30m

Currents:

Gentle

Visibility:

Up to 30m+

Surface:

Generally cam and sheltered, often used for overnight mooring

Site access:

Dinghy
In contrast to the Pinnacle here on Ko Tachai, both the North and South Reefs offer something a little more relaxing from your liveaboard experience. Mainly consisting of Staghorn and other Acropora Corals interspersed with large coral heads and sand patches these reefs are home to Snapper, Damsel Fish, various Moray Eels, Lion Fish, and Scorpion Fish. For those who prefer something a little larger there is also a fair chance of both Leopard Shark and Hawksbill Turtle on either reef here.
For more information on Ko Tachai and the Similan Islands, visit the Similan National Park Official Site.
To see more dive sites in Thailand, choose another area:
Thailand liveaboard - Northern Phuket dive sites

Similan Islands
-
Surin Islands
-
Ko Bon
-
Richelieu Rock
Thailand liveaboard - Southern Phuket dive sites

Phi Phi Islands
-
Ko Haa
-
Hin Daeng and Hin Muang
Return to the top of Liveaboard Diving at Ko Tachai.