Liveaboard Diving at Richelieu Rock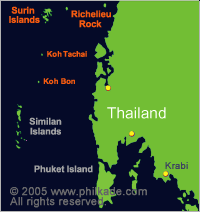 Site Layout:

Large limestone pinnacle with scattered rocks

Diving depth:

surface to 30m+

Currents:

Anything from none to very strong

Visibility:

Up to 40m+

Surface:

Open water, generally calm, surface traffic can be heavy at times

Site access:

Dinghy drop and pick up
This world-renowned site is often the favourite dive of the trip no matter what liveaboard itinerary is chosen. Invisible except at low tide, the limestone formation of Richelieu Rock hosts a stunning array of schooling fish as well as beautiful soft corals, and is a macro-lovers dream! Critters often found on Richelieu at various points through the season include Tiger Tail Seahorses, Ornate Ghost Pipefish, Porcelain Anemone Crabs, Ribbon Eels, Tiger Egg Cowries, and Harlequin Shrimp. For those who prefer something bigger there are often Brown Marbled Groupers, Potato Groupers, and schools of Barracuda. From time to time divers on Richelieu are even lucky enough to see both Manta Rays and Whale Sharks. Pick the right day on your liveaboard and you truly can see almost anything you wish over several dives on Richelieu Rock.
When to dive at Richelieu
You can only dive Richelieu via liveaboard from the beginning of November to the end of April or early May. The simple reason for this is that the western monsoon makes Richelieu virtually inaccessible to liveaboards for diving outside of these times. It is worth bearing in mind that diving on Richelieu cannot be guranteed, especially at the very beginning and end of the season, as the weather can sometimes make diving here dangerous, particularly drop offs and pick ups. It is worth noting however, that MV Philkade did not cancel any Richelieu dives in the 2007-2008 liveaboard season. The best time of year to see Manta Rays and Whale Sharks on Richelieu is late January through to April, though even then sightings are not guaranteed.....no matter what some books may tell you!
Which Richelieu Liveaboard Itinerary to choose
All liveaboard itineraries that include Similan and Surin include diving at Richelieu Rock. To check out the schedule, prices, and itineraries for our Surin liveaboard trips and to pick out your perfect trip see MV Philkade liveaboard prices and schedules
For more information on Richelieu Rock and the Surin Islands, visit the Surin National Park Official Site.
To see more dive sites in Thailand, choose another area:
Thailand liveaboard - Northern Phuket dive sites

Similan Islands
-
Surin Islands
-
Ko Bon
-
Ko Tachai
Thailand liveaboard - Southern Phuket dive sites

Phi Phi Islands
-
Ko Haa
-
Hin Daeng and Hin Muang
Return to the top of Liveaboard Diving at Richelieu Rock.