Dive Sites of The Similan Islands National Park
Three Trees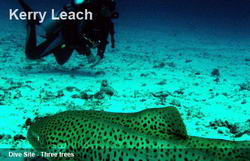 Site Layout:

Granite boulders in the deep, shallow hard coral reef

Diving depth:

5m to 30m+

Currents:

Can be strong, especially in the deeper areas

Visibility:

Up to 40m

Surface:

North East of Island 9, generally calm but can be choppy at times

Site access:

From MV Philkade in order to drop on the boulders. Free negative descent, no buoy
Named for the 3 distinct trees on Island 9 that denote the jumping point for the dive, this is often one of the highlights of the trip. After a negative entry and quick descent from the big boat you will find yourself among a large cluster of sloping boulders from 17m to well over 40m. Often considered the best chance of Leopard Shark on any site here, there are also Long Fin Bat Fish, Napoleon Wrasse, Unicorn Fish, and groups of Brown Marbled Grouper about. Heading across the sand to the main reef, you can see Kuhl's Rays, Spotted Garden Eels, and sometimes Leaf Fish. Beware though as several times throughout the season both Yellow Margin and Titan Trigger Fish lay their eggs in the numerous 'pits' here. Choose your route carefully!! Once on the gently sloping coral reef you will be astounded by the amount of life. Highlights can include Banded Sea Kraits, schooling Yellow Fin Barracuda, Milk Fish, Hawksbill Turtles, and large groups of Big Eye Snapper. This is a great reef for snorkelers to see what they are missing by staying on the surface!!
Select other Similan Dive Sites you can see on your liveaboard trip.
For more information on the Similan Islands, visit the Similan National Park Official Site.
To see more dive sites in Thailand, choose another area:
Thailand liveaboard - Northern Phuket dive sites

Ko Bon
-
Surin Islands
-
Ko Tachai
-
Richelieu Rock
Thailand liveaboard - Southern Phuket dive sites

Phi Phi Islands
-
Ko Haa
-
Hin Daeng and Hin Muang
Return to Liveaboard Dive Sites in Similan.