Dive Sites of The Similan Islands National Park
Shark Fin Reef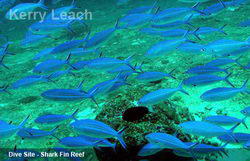 Site Layout:

Large granite boulders

Diving depth:

Surface to 30m+

Currents:

Generally moderate

Visibility:

Up to 40m

Surface:

Open water, can be choppy at times

Site access:

From MV Philkade or dinghy depending upon time and conditions
Just a short distance north of Boulder City this reef, Hin Phae in Thai, is the longest reef in the Islands. Several rocks just break the surface (except at high tide) before cascading as deep as 40m. The south side is deeper and covered with large boulders, while the north side slopes away more gently with fields of sand and hard corals sloping into the distance. Marine life is similar to Boulder City, though sightings of Kuhl's Rays and Jenkins Whip Rays do tend to be more common here. Shark Fin is often dived as the last dive if the currents are strong, rather than Boulder, due to its size.
Select other Similan Dive Sites you can see on your liveaboard trip.
For more information on the Similan Islands, visit the Similan National Park Official Site.
To see more dive sites in Thailand, choose another area:
Thailand liveaboard - Northern Phuket dive sites

Ko Bon
-
Surin Islands
-
Ko Tachai
-
Richelieu Rock
Thailand liveaboard - Southern Phuket dive sites

Phi Phi Islands
-
Ko Haa
-
Hin Daeng and Hin Muang
Return to Liveaboard Dive Sites in Similan.