Liveaboard Diving at Ko Haa
Ko Haa Neua - The Chimney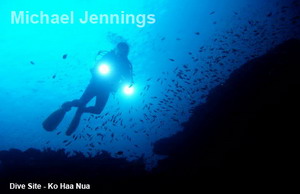 Site Layout:

Limestone rocks and boulders, swim-throughs, vertical passage

Diving depth:

surface to 28m

Currents:

Generally mild, can move if you stray too far west

Visibility:

Up to 20m

Surface:

Very calm and sheltered almost year round. Surface currents can be strong on pick up

Site access:

Dinghy or MV Philkade
The most northern (Neua being North in Thai) of the Ko Haa Group has a fantastic dive site on its south western corner. Formed from the shearing of limestone rocks from the vertical cliffs, this site is a playground for divers. From 28m there are a series of swimthroughs that are coated in Hemprich's Soft Corals and interesting macro life including Shrimps and Nudibranchs. The highlight though is 'The Chimney', a 12m vertical swimthrough generally reached towards the end of the dive. Beginning at the base of the wall and splitting to give the option of 2 exits on the way up, this swimthrough simply asks that you watch your ascent speed!! On exiting the chimney at 6m, you are offered more swimthroughs and the chance to see Banded Sea Kraits and Octopus in the shallows. You need to be careful all over this site as Scorpion Fish wait on every rock to give divers a nasty surprise.
Select other Ko Haa Dive Sites you can see on your liveaboard trip.
For more information on Ko Haa, visit the Ko Lanta National Park Official Site.
To see more dive sites in Thailand, choose another area:
Thailand liveaboard - Northern Phuket dive sites

Similan Islands
-
Surin Islands
-
Ko Bon
-
Ko Tachai
-
Richelieu Rock
Thailand liveaboard - Southern Phuket dive sites

Phi Phi Islands
-
Hin Daeng and Hin Muang
Return to Liveaboard Dive Sites Ko Haa.