Liveaboard Diving at Ko Haa
Ko Haa Yai- The Cathedral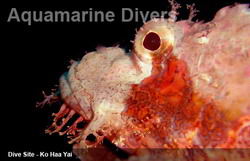 Site Layout:

Limestone rocks and boulders, plus caverns and swim-throughs

Diving depth:

Surface to 28m

Currents:

Generally mild

Visibility:

Up to 20m

Surface:

Very calm and sheltered almost year round.

Site access:

Dinghy
Another dive that offers something very different for the discerning diver is the south of the largest island (Yai meaning big in Thai) in the Ko Haa group. From a shallow hard coral garden to the west of the main site, you descend across a sandy area where you have the chance of Kuhl's Rays and Hawksbill Turtles. Once across this, a series of soft coral covered limestone rocks rise from 28m to around 14m at the base of the island. There are also Whip Corals and Knotted Sea Fans between the rocks. Fish life is similar to Ko Haa Neua, but the treat at the end of the dive here is slightly different. At the base of the island, two caverns are joined by a large swim-through to form 'The Cathedral', one of the most beautiful underwater formations in the south of Thailand. Though life in the cavern is sparse, the view from the back is spectacular, with light spilling in through both cavern entrances and the swim-through. There is a second cavern slightly to the west, and a small pinnacle with spectacular Knotted Fan Corals growing on it, but most divers abiding memory will be 'The Cathedral'.
Select other Ko Haa Dive Sites you can see on your liveaboard trip.
For more information on Ko Haa, visit the Ko Lanta National Park Official Site.
To see more dive sites in Thailand, choose another area:
Thailand liveaboard - Northern Phuket dive sites

Similan Islands
-
Surin Islands
-
Ko Bon
-
Ko Tachai
-
Richelieu Rock
Thailand liveaboard - Southern Phuket dive sites

Phi Phi Islands
-
Hin Daeng and Hin Muang
Return to Liveaboard Dive Sites Ko Haa.