Liveaboard Diving in Burma
Sea Fan Forest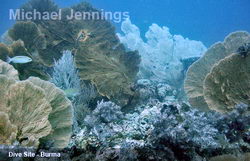 Site Layout:

Large pinnacle rising from 50m to close the surface

Diving depth:

8m to 30m+

Currents:

Can be strong

Visibility:

Up to 30m

Surface:

Open water, can be choppy early and late in the season

Site access:

MV Philkade
This submerged limestone pinnacle rises from a bottom between 50m+ and 28m to within around 8m of the surface. It is basically a north to south ridge which is covered, as the name suggests, in huge Gorgonian Sea Fans. Unfortunately part of the east side of the pinnacle was badly damaged by fishermen in 2007, but the site is still fantastic. The eastern edge of the ridge is often a resting place for leopard sharks, and on the top of the pinnacle you will find a garden of Magnificent Sea Anemones and several species of Anemone Fish. Around the pinnacle it is possible to see large numbers of Rainbow Runners, Unicorn Fish, Surgeon Fish, and Schooling Banner Fish. The sea fans also provide shelter for juvenile snapper and the like so there will always be Common Lion Fish and Bearded Scorpion Fish around to take advantage.
Select other Burma Dive Sites you can see on your liveaboard trip.
For general tourist information for the Mergui Archipelago see the Official Mergui Archipelago Website.
Return to Liveaboard Diving in Burma.