M.V. PHILKADE: 25th December 2004 - 2nd January 2005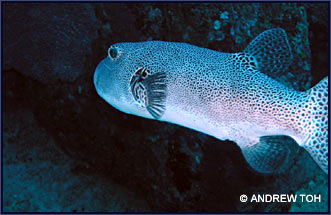 "Great Trip - Would recommend highly"
M/V PHILKADE sailed from Phuket on the evening of the 25th December 2004 for a Christmas and New Year 7 day, 8 night gala special trip; onboard were 13 guests from Canada, France, Italy, Singapore and New Zealand, along with 8 crew, 4 dive staff plus Philippe and Arraya the owners of Aquamarine Divers.Before we sailed, the crew prepared a massive delicious sea food barbeque, then after some on-board fireworks, all the guests settled down in their luxury suites for the overnight sail to the Similans, the seas were calm and MV Philkade arrived in good time for the first dive of the new day.Everyone now knows that Boxing Day 2004 was a day to remember; there was a massive earthquake south west of Sumatra at a magnitude of 9.0. It caused a Tsunami which flooded many coastal regions around the Indian Ocean including the West Coast of Thailand. We were actually making our first dive of the day on Breakfast Bend when the shock wave hit; the unusually strong currents and strange conditions led the dive guides to call off the dive. Back on board MV Philkade news of the earthquake started filtering in and we started to find out roughly what had happened. Captain Eiad decided to sail to deeper water, were there was little risk of any Tsunami waves. We were all very thankful that MV Philkade was built to full ocean-going standards and could weather the worst of conditions. So for the remainder of the day everyone rested as well as they could in between SMS/phone calls to friends and relatives plus regular news updates from the crew.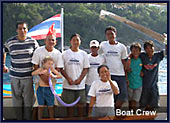 Meanwhile the boat crew, dive staff and owners carefully assessed the situation and decided on a plan of action. It had become clear that there was some limited damage to infra structure on Phuket Island and that it would be unwise to plan to immediately return until we had a much clearer picture of the state of things there. Since we had plentiful supplies on the boat, both the crew and guests made a collective decision to carry on with our trip as best as we could. We were subsequently well rewarded in making this choice and found in fact that more than 95% of the reefs in the Similans had been spared from the destructive forces of the Tsunami.
After a lie in on the 27th we made our first post-tsunami dive on East of Eden and found there was some damage to the west of the large pinnacle, but that east of this pinnacle, the reef was hardly affected. Our second dive was on Anita's Reef off Island number 6 and we were truly delighted to find corals and fish just as splendid as before. Boris made a Discover Scuba Dive in Honeymoon Bay with Cruise Director John also Boris' Dad Jean Marc came along to watch.
On the 28th we dived on Deep Six north of Koh Pabu (Island #7) and we were delighted to meet a white tip shark. This was followed by a great dive on Beacon Point, the south western point of Koh Similan (Island Number 8) we found this reef was still in pristine condition.