M.V. PHILKADE: 19th-26th December 2007.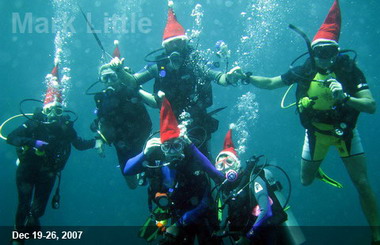 Funnily enough the dive guides played at Santa on this dive and placed a numbered Santa's hat for every guest at the foot of Ko Haa Neua's very own chimney. All divers then entered the 'Chimney' at 16 metres, made their way up through the inside of the rock with the sun beaming down and emerged at 6 metres to do a safety stop complete with Santa's hat. The dive was terrific fun and the fun continued as we did a countdown of the Santa's hat to find out who had won this year's Christmas star prize…
The sun was just beginning to get low in the sky as our 'Christmas guests' were welcomed on board MV Philkade for a 6 day 7 night trip to the Similan Islands, Richelieu Rock and further to the south, Hin Daeng, and Hin Muang. All guests from Ireland, America, England, France, Russia, Spain, Thailand and Denmark, were looking forward to having escaped the Christmas fever of their home countries for the calm serenity offered by a diving cruise in the Andaman Sea. So after the Cruise Director's entertaining boat briefing, guests were introduced to their cabins before settling on the upper deck for the first of many delicious dishes prepared by our on-board chef.
On the morning of the 20th December, after journeying up to the Similans through the night, it was with bleary-eyes that we all emerged from our cabins for our check-out dive at Anita's Reef. Jumping into the Andaman Sea to enjoy 30 metre visibility, still water and an array of marine life made it all worth it. Soon any nervousness was forgotten as guests got used to being back in the water again and settled into observing everything that Anita's Reef has to offer including a napolean wrasse cruising by, thousands of glass fish and snapper over the large impressive coral heads and fields of spotted garden eels across the sand. Our next dive took us to Island 7's East Of Eden, a reef dive famous amongst the many sites in the Similans for its outstanding beauty. Needless to say it did not disappoint. Guests found themselves a big banded sea krait wrapped amongst the staghorn corals as well as a turtle clambering its way across the reef. A particular highlight was the three white tip reef sharks that were found snuggled up, sleeping under a table coral. All this as well as the many flute fish, cornet fish, snapper, angel fish, butterfly fish, parrot fish and much much more on offer. For dive 3 we headed to our first boulder site of the trip, Deep Six. The scenery here was truly spectacular and the cool thermocline made for some crystal clear water which brought in shoals of emperors and blue-fin trevallies swooping in and out of the glass fish-covered rocks. Superb! Diving aside, it was time for an adventure as 8 of our 10 guests hopped in the dinghy for a ride to Koh Similan. Bravely we all climbed to the top of this rocky island to enjoy breath-taking views of powder white beaches, turquoise waters, blue skies and MV Philkade moored in the bay. Back on the boat Rikke and Christian somehow found even more energy to take Philkade's kayak out on to the water! By 6.45pm the sun was setting in the sky, the fish were beginning to sleep, the crustaceans were beginning to emerge and it was time for us to dive again. 'The Moorings' offered us a nice gentle night dive including spiney lobsters, giant red reef crabs, anemone hermit crabs and nudibranchs as well as tiny shrimps hiding away in the finger corals. Congratulations to Maria for battling with her anxieties and successfully making her first ever night dive! At 8pm, we settled down on the upper deck for an al-fresco dinner of salad, garlic mussels, steak and spaghetti Bolognese as well as a dessert of waffles and ice-cream, before crawling back to our cabins for a well-earned night's sleep in preparation for our second day' diving.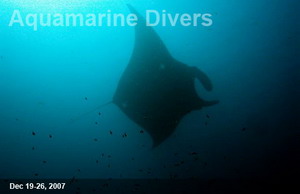 It was to a glorious sun rise that we awoke on the 21st to begin our diving on Island 9 at North Point. Little current made for perfect conditions as we descended on to the boulders in the deeper section of this site. A leopard shark swimming round at the start of the dive and a turtle out for its early-morning feed at the end of this dive formed ideal brackets around the smaller bent-stick pipefish, fire gobies and octopus found during the dive. This site is always a favourite among guests and today was no exception. After a hearty breakfast it was time to head north to Ko Bon for our second and third dive. Really only one word can sum this up for most guests on board…MANTA! It was fantastic to descend down on to Ko Bon's west ridge and be greeted by the grace of manta rays flying by us. For some time we just hung out on the ridge watching the manta rays circle us. Fire gobies, scorpion fish, moray eels and nudibranchs were also around for the macro-geeks! Heading even further north our sunset dive was a bit of a work-out on Ko Tachai Pinnacle with the current bringing in the bigger hunting fish for guests to enjoy. Highlights included thousands of neon fusiliers swimming by, followed by hundreds of big blue-fin trevallies and yellow pilot jacks. Returning to the boat as the sun dropped over the horizon, we gathered on the upper deck for another of chef's specials; mixed vegetables, beef massaman curry, chicken with ginger, sweet and sour fish and rice with a dessert of sweet crepe. Mmmmmmm.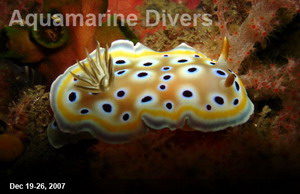 And so to Richelieu Rock, and in a word…amazing. We descended down the mooring line to beautifully crystal clear waters with 30+ metre visibility. If that wasn't enough to take our breath away there was the array of pink and purple soft corals covering the rock as well as swarms of glass fish and shoals of feeding emperors and snappers. Over 3 dives here we found cuttle fish, nudibranchs, chevron barracudas, many species of moray and shrimp. We even enjoyed looking in on 2 octopus mating down on the sand. To watch them sprawled across the sea floor tickling one another with their tentacles and rapidly changing colour and texture made for great pictures and a whole load of conversation once we returned to the boat. After our 3 day dives guests took to relaxing in the sun, reading, watching films in the saloon or grabbing the opportunity for a nap as MV Philkade journeyed back down south to Ko Bon for our night dive. Only 4 guests opted for the night dive while others chose to relax under the stars on the fly deck with a beer or glass of wine. The night divers were far from disappointed with their choice though as 2 big octopus were found sprawling across the corals as well as a couple of morays out for their night hunt. Smaller stuff included porcelain anemone crabs, nudibranchs, cowries, coral crabs, decorator crabs, many shrimps and a giant red reef crab. Over a dinner of pork, sauteed potatoes, vegetables and salad with a dessert of creme caramel we discussed our future dives that were to include our next day back in Similan, before retiring to bed for an early start again.
Our return to the Similan Islands took us to one of the best reefs around, Three Trees, and what a dive this turned out to be. Nobody could have imagined the delights that were awaiting us as we descended on to the boulders in the deeper sections of this site. Almost immediately we were greeted by a free-swimming leopard shark. And then as we headed shallower, crossing over a number of Kuhl's rays, we came across two mating leopard sharks. It was with amazement that we all looked on at the male nibbling the female's tail as they swam in circles around each other. Just when we thought our luck could not improve guests were met by a manta ray cruising across the reef at just ten metres depth!! Unbelievable! Our next dive was something different again as we headed to a site renowned as Similan's best boulder site, Elephant Head Rock. The visibility was awesome and the water was slack as we made our way around the deeper boulders enjoying a huge moray and a hungry-looking barracuda. We then worked our way shallower through the playground of swim-throughs offering guests phenomenal views as the rocks towered over us from the surface to far below. All too soon our Similan experience was to end but not without one final dive at Shark Fin Reef. This extensive dive site was affected by some fairly strong current that provided the perfect drift dive for our guests to enjoy the boulder sections near the beginning of the dive through to the prestine reef sections with a massive variety of corals in the form of big gorgonian sea fans, fields of whip corals, leather corals, staghorn coral and plate coral as well as numerous sea anemones and disc anemones. That is not to mention the bigger than usual unicorn fish, box fish and surgeon fish swimming around us as we drifted. After three superb dives, the afternoon of the 23rd December was taken up with much sleeping and relaxing as MV Philkade made her journey south for the latter section of the Christmas cruise.
Christmas Eve was to see us dive the famous southern dive sites of Hin Daeng and Hin Muang. Over four dives here guests were delighted with the variety of marine life on offer and surprised to see how different the southern sites can be to those already dived in the north (at Similan and Richelieu). Hin Muang as well as being coated with beautiful sea anemones and being home to a plethora of shrimps, gave our guests yet another manta ray as well as marbled whip rays and marbled groupers. Comments were also made on the sheer number of fish surrounding the rock including thousands of fusiliers, trevallies and jacks as well as massive rainbow runners tempting our eyes away from the rock and into the blue for the 'big stuff'! Hin Daeng brought us slightly smaller life in the form of a big shoal of long fin batfish and hundreds of large yellow-tail barracuda down to really small life in the form of ornate ghost pipefish and nudibranchs. Moray eels had become so common as part of this trip that divers were asking their guides not to point them out anymore! Over a few cheeky ales and another delicious dinner from our on-board chef, guests took the opportunity for an early night's sleep before the excitement of Santa Claus' arrival….
In the early hours of Christmas morning guests awoke to the spectacular scenery offered by the sheer limestone cliffs of Ko Haa. Our first dive was at Ko Haa Yai where Mik and Kerry guided their customers around the rocks and over the corals before heading into the highlight of this dive site, the 'Cathedral'. Guests were able to get stunning photographs from the inside of these massive sun-lit caverns forming perfect silhouettes of their diving buddies as we gently swam through enormous swim-throughs from one cavern to the next. Equally astounding were the colourful nudibranchs found along the wall as well as ornate ghost pipefish and banded sea kraits. But with one dive over and breakfast gobbled up, it was time for us to open the gifts laid under the tree by Santa and his elves in the night and then do our Christmas dive at Ko Haa Neua! Funnily enough the dive guides played at Santa on this dive and placed a numbered Santa's hat for every guest at the foot of Ko Haa Neua' very own chimney. All divers then entered the 'Chimney' at 16 metres, made their way up through the inside of the rock with the sun beaming down and emerged at 6 metres to do a safety stop complete with Santa's hat. The dive was terrific fun and the fun continued as we did a countdown of the Santa's hat to find out who had won this year' Christmas star prize. Congratulations goes to Mark for picking the Santa's hat that won him a hundred dollar aluminium dive light!! Our following dives at Ko Bida Nok and Ko Bida Nai (Phi Phi) were much more sedate but no less spectacular. Francois turned around at one moment to find himself face to face with a free-swimming leopard shark. Over the two dives all divers found Kuhl's rays, lobster, crabs, shrimps, a big shoal of yellow-tail barracuda and much much more. It was a wonderful way to spend Christmas and the perfect end to Philkade's 2007 Christmas trip.
The diving may have ended here but the celebrations of Christmas did not. Our on-board chef pulled out all the stops in preparing a Christmas meal for everybody on board. This year we tucked into a traditional Christmas Turkey, Roast Lamb in Red Wine sauce, mixed vegetables, baked potato, salami, roast ham and much more. We were all stuffed which made Christmas really feel like Christmas for everybody despite the warm temperature and the clear night sky.