M.V. PHILKADE: 12th-18th February 2008.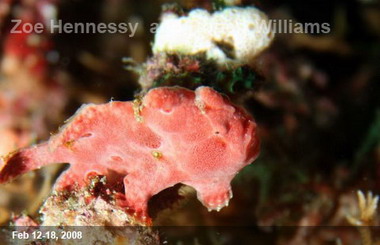 " Many thanks to Ilkay, Andre, Tamara, Allison, Rob, Zoe & Rob for a great trip??? and all the harlequin shrimps!! Hope to see you all again soon "
On the evening of the 12th February, our seven guests from America, England & Austria received a huge welcome by staff and crew on board MV Philkade??? especially Ilkay, who having stepped off the boat in the morning decided to turn around and hop straight back on the boat to head back to the Similans!
The next morning however, we were greeted with sunshine but also with waves on the east side of the islands. Divemasters, Mik & Kerry, along with the captain successfully re-arranged plans a little to deal with the conditions so the check-out dive was at ???Squeaky Rock??? (Island no.7). On the west side of the island we were able to enjoy sheltered water and a lovely easy dive to begin the trip, seeing many Kuhl???s sting rays, lobsters, a white-tip reef shark, egg cowries, nudibranchs and a turtle. A successful first dive by all accounts. Dive 2, 3 & 4 we were able to dive both Islands 4 and 7 at the coral reef sites of East of Eden, Anita???s Reef and West of Eden. The day dives were spectacular with very little current and lots of life including more Kuhl???s rays, trevallies, hawk fish, a juvenile rockmover wrasse and a teeny-tiny pink frogfish! The night dive brought out the crustaceans in the form of numerous spiney lobsters and coral reef crabs, so by the end of the first day???s diving guests were already feeling spoiled! Chef???s al-fresco dinner of salad, garlic bread, steak, mussels, pasta and Bolognese followed by a scrumptious dessert of waffles and ice-cream only added to the treats of the day!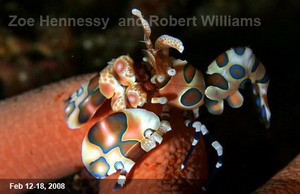 Our Valentine???s Day diving was to begin on Island 7???s Deep Six. The still wavy conditions made for some interesting swell in the shallows but overall this dive delivered some superb comments for logbooks with the ever-impressive swim-throughs filled with schooling bannerfish, nudibranchs, parrotfish and massive hunting giant trevallies. With granite boulders and swim-throughs providing a theme for the day, we did 3 more dives at Elephant Head Rock, Turtle Rock and Ao Guerk. The giant trevallies were spotted again on Elephant Head as well as white tip reef sharks, a great barracuda, thousands of neon and yellow-tail fusiliers, milk fish, and Kuhl???s rays. For those aiming for macro there was plenty to take note of too in the form of a beautiful starry dragonet, banded boxer shrimps, Durban dancing shrimps, spiney lobsters and a giant white frogfish. Chatting over dinner that night though, it was the swarms of jellyfish that enveloped divers on the night dive safety stop that dominated general conversation!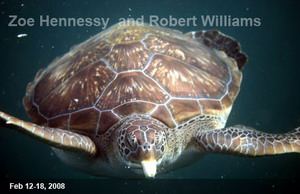 With jelly-fish gone, our early-morning dive on day 3 was to be at Island 9???s North Point. A negative descent on to the deeper section of boulders failed to bring us a leopard shark but did bring us fantastic macro life. Guests were more than happy with the ornate ghost pipefish, bentstick pipefish and fire gobies spotted early on in the dive and then the ever-obliging turtle was waiting on the shallow sections of the reef to give a ???good morning??? to us! Heading further north that morning we did our second and third dives of the day at Ko Bon???s Pinnacle & West Ridge. Unfortunately guests were not blessed with manta rays during our visit here but this did not take away from the outstanding yellows and oranges of the soft corals, or the mass of pelagic fish in the blue including hunting blue-fin trevallies, yellow-tail barracuda, rainbow runners, black trevallies and golden pilot jacks. Morays, sponge snails, purple sea dragons and tiger egg cowries were also spotted in the sea fans and in various holes and cracks along the limestone ridge. With two night dives already done, guests opted for a sun-set dive on Ko Tachai???s Pinnacle. Usually known for the swarms of hunting fish in the blue, Ko Tachai delivered not just fish but also a fantastic nudibranchs ??? that even the guides were particularly excited about ??? a species of Roboastra for those who are familiar with their latin terminology! Over dinner then there was talk of our great dives already done but also of our much-anticipated next day???s diving at Richelieu Rock. Some kind of s??ance was suggested by Zoe as a way of calling in the whale shark for the next day but soon guests were overcome by tiredness and all energies were used just in crawling downstairs to our cabins! All that good diving and a stomach full of Chef???s wonderful food??? It really was hard!
On Saturday 16th February, it was Richelieu Rock that beckoned divers from the comfort of their beds. Maybe we should have taken part in Zoe???s whale shark s??ance because there was none around but that did not take anything away from the fact that we had an awesome day???s diving. In fact after the third dive, guests were asking to stay on Richelieu Rock for dive 4 so we ended up doing 4 spectacular dives seeing a total of 4 tiger tail seahorses, 3 sets of harlequin shrimps, banded boxer shrimps, cleaner shrimps, Durban dancing shrimps, ornate ghost pipefish, orange-spot pipefish, nudibranchs, mantis shrimps, yellow-tail barracuda, shoals of yellow snapper and much much more. As we settled down to dinner that night all were in agreement that we had just enjoyed a great day???s diving and all were sad that we had to begin our journey south leaving Richelieu Rock behind.
Our final day???s diving was voted on by guests on-board. After much deliberation it was decided upon Christmas Point, Three Trees and Shark Fin Reef. This brought the perfect end to our trip with sightings of leopard sharks, turtles, Kuhl???s rays, box fish, nudibranchs, shrimps, yellow-tail barracudas and much much more. The customers??? choices worked out perfect and allowed the relaxing afternoon journey south to Phuket to be filled with exchanging photos and exploring fish books!
Many thanks to Ilkay, Andre, Tamara, Allison, Rob, Zoe & Rob for a great trip??? and all the harlequin shrimps!! Hope to see you all again soon.