M.V. PHILKADE: 24th - 31th January 2008.
The evening of the 24th got off to an unusual start with MV Philkade being delayed due to the low tidal conditions at the pier. Instead of going directly to the boat, guests were greeted by staff, Mik and Kerry, at a popular seafood restaurant in Phuket Town and while shrimp cakes, green curry, steamed prawns in coconut milk, fried rice and much much more was brought to the table, guests were able to relax into that ???holiday feeling??? and get to know one another before stepping on board the boat.
By 10pm that evening, with the tide now high enough for MV Philkade to leave port, guests were welcomed on board, settled into their cabins and were eagerly awaiting the first day???s diving around the Phi Phi Islands.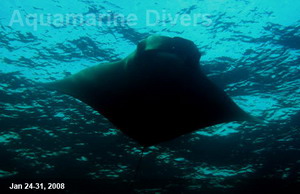 Our dives around Phi Phi on the 25th certainly delivered the goods. Over three dives at Ko Bida Nok, Ko Bida Nai and Hin Bida we were all blown away by the easy conditions and the superb marine life both large and small. Highlights included a couple of leopard sharks sleeping on the sand, porcelain anemone crabs, ornate ghost pipefish as well as pilot jacks, flute fish, and swarms of snapper in the blue. It was a difficult choice for photographers on board to choose between wide angle or macro lenses!! For our sunset dive we headed further south to the stunning scenery offered by Ko Haa. Diving the ???cathedral??? here, the sun was getting low in the sky and beamed in to these expansive caverns providing us with spectacular views and colours both inside and out. There was even another leopard shark asleep on the sand, not having woken up yet for her nightly hunt. All that was left of our first day was to watch the final moments of the sun setting on the horizon and to enjoy our on-board chef???s al-fresco dinner of spaghetti Bolognese, garlic mussels, garlic bread, steak and salad followed by an ice-cream dessert. It???s a hard life!
Following our ???warm up??? on Phi Phi and Ko Haa, we awoke early on the 26th with bigger things on our minds. Rumours from the previous day had centred around manta rays and we were all hoping they were true as we took the rib the short distance from Philkade to the line on Hin Muang. Within seconds of entering the water the nay sayers were silenced as a lone 4m manta ray circled the shallowest peak of the site for the whole of the dive. We did leave the ray for a while where we managed to see a leopard shark, marbled whip ray and groupers galore, but we quickly returned to spend the final 20 minutes watching our manta. The dive was eclipsed as the day wore along however as 2 dives on Hin Daeng were spent almost entirely with manta???s. These clearly hungry beauties were circling continually for the 2 hours of the dives leaving ample time for the photographers amongst us (all bar one) to get magnificent pictures, including the possibility of a few macro shots as they came so close!!! Oh, and there were ornate ghost pipe fish, morays, leopard shark and some other stuff. Day ended as we had dinner as we cruised north, saying a sad goodbye to the mantas.
On the 27th, after a 13 hour cruise from Hin Daeng we awoke on the Similan Islands. Our first dive here took us to East of Eden where conditions were almost perfect. The lack of any current allowed us to take out time down the reef and to circle the famous ???Orchid Shop??? several times. Along with the usual array of life we also found a beautiful juvenile giant frogfish, both the colour and size of the average thumb. After a hearty breakfast we rounded the corner for dive 2 at Deep Six, where though the current was moving somewhat we sheltered in the various swimthroughs and canyons on the site. There were banded sea kraits, kuhl???s rays and several types of nudibranchs that also helped take anyones mind from the exercise. A leisurely afternoon and a short cruise north took us to island number nine and Three Trees for our afternoon dive. Leopard shark, more kuhl???s rays and the usual array of angel fish, butterfly fish and other colourful reef fish made for a beautiful relaxing dive. Continuing the relaxing theme, the late afternoon was spent on the beach on island number 8 in order for customers to feel the earth beneath their feet again before a night dive in Waterfall Bay. Several spiny lobster, giant reef crabs, nudibranchs and scorpionfish were seen by the intrepid few who dived, building their appetite for dinner. Another successful days diving completed, and only at the half way point!!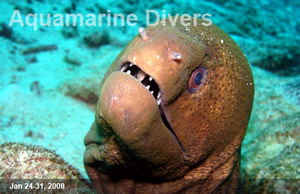 The 28th saw us dive Island 9???s North Point where we were able to enjoy many of the Andaman Sea???s delights in the form of a leopard shark, a turtle, a bent-stick pipefish, a Kuhl???s ray and even a school of chevron barracuda on our safety stop. Perfect start to the day! Heading north to Ko Bon???s West Ridge we encountered some strong currents for our second and third dive. This did not deter guests from encountering devil scorpionfish, nudibranchs, banded sea kraits and a couple of mating marbled octopus giving each other a tickle. As we sipped on watermelon shakes MV Philkade motored us even further north through the afternoon for our sunset dive at Ko Tachai???s Pinnacle. Though the current was strong it did mean plenty of hunting action with blue fin and giant trevally fighting it out with tuna and barracuda over the poor fusilier and snapper. After all the exertions and a plentiful dinner sleep came easy???.in preparation for the following day.
Richelieu Rock on the 29th did not disappoint. Though the current was unusual for the day (only heading in one direction???maybe the moon is broken) the vis was good and there were many things to see. Among the highlights were cuttlefish, harlequin shrimps, tiger egg cowries, schools of 5 line snapper and big eye trevally, yellowtail barracuda, various nudibranchs and obviously the beautiful soft corals that go part way to giving Richelieu its name. For a change of pace, we left for Ko Tachai Reef for the sunset dive where the physical exertions of the day were left behind for a drift down a hard coral reef. Kuhl???s rays, red tooth trigger fish, copper sweepers and many more made for a relaxing end to the day with Yellow Curry, Tom Yam Goong, steamed snapper and vegetables finishing things off nicely.
Although the 30th was the last day, spirits were still high as we dived Elephant Head Rock, East of Eden (a return!!) and Sharkfin Reef through the day. Over the three hours we saw frogfish (times two!!), great barracuda, kuhl???s rays, humphead parrot fish, lionfish, pipefish and many more. All in all, a successful last days diving. As we cruised home and customers relaxed for one (long) last time photographs were swapped, stories were told and a final (enormous) dinner was eaten.
To Chris, Leigh Ann, Sherwin, Paul and Davey, many thanks from MV Philkade team.