Liveaboard Diving at Ko Phi Phi
Ko Bida Nok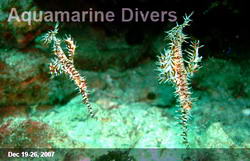 Site Layout:

Shallow coral gardens, limestone rocks and boulders, sandy flats

Diving depth:

Surface to 30m

Currents:

Mild to moderate

Visibility:

Up to 25m

Surface:

Can get choppy, though normally sheltered

Site access:

Dinghy
The furthest south of the Phi Phi Islands, Ko Bida Nok ('outer' Bida island) has some amazingly diverse marine life. Generally dropping in or around a small bay to the south of the islet you will start amongst beautiful coral and rock formations where you have a good chance of seeing Leopard Sharks and Hawksbill Turtles. The walls of Bida Nok descend vertically into the sea and are covered with Hemprich's Soft Corals and Magnificent Anemones. Look into all the cracks and crevices for many types of Moray Eel, Shrimps of all kinds, and Ornate Ghost Pipe Fish for the bright eyed.
There is a small cavern, several swim-throughs, and huge amounts of hard corals including Acroporas, Brain Corals, and Table Corals along with various Gorgonian Sea Fans, Whip Corals, and Bubble Corals. Aside from the vast amounts of reef fish on Bida Nok you may be lucky enough to see Black Tip Reef Sharks and, although unusual, Whale Sharks are seen here by the lucky ones several times a year, regardless of the season. There are also plenty of Common Lionfish and Western Clownfish for photographers seeking that perfect shot.
There is also an extra bonus when diving on Ko Bida Nok, and that comes at the surface. The vertical rock formations will take your breath away, and depending upon the time of day you are diving you can see Sea Eagles hunting around you.
Select other Ko Phi Phi Dive Sites you can see on your liveaboard trip.
For more information on Ko Phi Phi, visit the Ko Phi Phi National Park Official Site.
To see more dive sites in Thailand, choose another area:
Thailand liveaboard - Northern Phuket dive sites

Similan Islands
-
Surin Islands
-
Ko Bon
-
Ko Tachai
-
Richelieu Rock
Thailand liveaboard - Southern Phuket dive sites

Ko Haa Islands
-
Hin Daeng and Hin Muang
Return to Liveaboard Dive Sites Ko Phi Phi.