Liveaboard Diving at Ko Phi Phi
Ko Bida Nai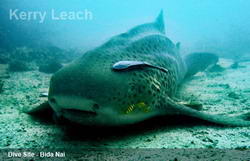 Site Layout:

Shallow coral gardens, limestone rocks and boulders, swim-throughs

Diving depth:

Surface to 30m+

Currents:

Mild to moderate

Visibility:

Up to 25m

Surface:

Can get choppy, though normally sheltered

Site access:

Generally Dinghy
Lying just a short swim north of its larger neighbour Ko Bida Nok, Ko Bida Nai is also a small limestone island with fringing hard coral reefs, mini-walls, and a small complex of swim-throughs. You will normally drop in the south bay where you will be surrounded by Acropora Corals, Table Corals, and Bush Corals, after which you will head out to several large boulders where canyons and swim-throughs provide wonderful scenic views.
You may also head out east to Fantasy Reef which is home to large numbers of Common Lion Fish which are often hunting around the many Gorgonian Sea Fans, Whip Corals, and Staghorn Corals that adorn the reef. Schools of Trevally, Yellow Tail Jacks, and Pick Handle Barracuda are constantly feeding on the shoals of small Snapper and Fusilier that are often above the reef itself. When heading to and from Fantasy Reef over the sand flats or fields of Staghorn Corals, keep your eyes open for sleeping Kuhl's Rays and Leopard Sharks, as well as the Black Tip Reef Sharks which are sometimes cruising around the area.
In the shallower sections of the dive there are beautiful gardens of Magnificent Anemones as well as mini-walls that often have Frog Fish, Ornate Ghost Pipe Fish, Sea Horses, and even Ribbon Eels hiding amongst the cracks, crevices, and Sea Fans that make up the majority of the area. You can also see Eagles on surfacing as on Bida Nok here, but even if they don't show just lie back and wait for your pick up while enjoying some of the finest scenery in Asia!!
Select other Ko Phi Phi Dive Sites you can see on your liveaboard trip.
For more information on Ko Phi Phi, visit the Ko Phi Phi National Park Official Site.
To see more dive sites in Thailand, choose another area:
Thailand liveaboard - Northern Phuket dive sites

Similan Islands
-
Surin Islands
-
Ko Bon
-
Ko Tachai
-
Richelieu Rock
Thailand liveaboard - Southern Phuket dive sites

Ko Haa Islands
-
Hin Daeng and Hin Muang
Return to Liveaboard Dive Sites Ko Phi Phi.